Thursday July 5th, 2018
Today's Almost Impossible Trivia question (every weekday morning at 8:05am).
This week we have Ed Sheeran tix!
This happened to about 14,000 people yesterday?
(scroll down for answer) ANSWER:
They became United States Citizens!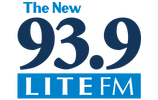 93.9 LITE FM The Best Variety From the 80's, 90's and Now for Chicago!
© 2018 iHeartMedia, Inc.